Best widgets for your iOS 8-running iPhone or iPad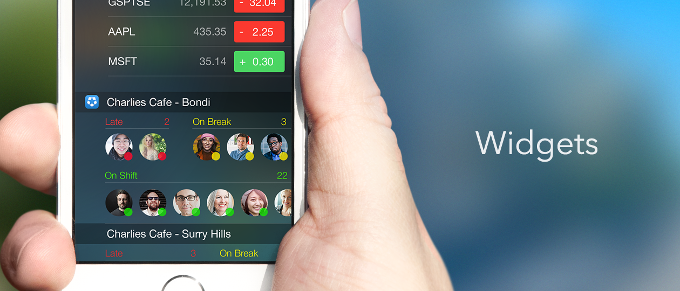 One of the new features that arrived alongside Apple iOS 8 is support for widgets, a feature that has been a fundamental signature of Android for a long, long time. Well, some may argue that widgets in iOS and Android greatly differ from one another in terms of integration within the UI. After all, iOS only allows you to put widgets in your notification center, while Android offers an unprecedented level of flexibility and customizability.
Evernote
Animations, weather info, maps - Dark Sky has it all. Of course, it also has a widget that comfortably sits in the Today section of your notifications center.
System Info Widgets
This free widget will provide you with tidbits of info about various system stats, like current CPU, memory, and battery usage. Data is displayed as bar charts in absolute values. As a whole, it's a handy widget that gives you information about the status of your device.
Launcher with Notification Center Widget
This widget for iOS allows you to put a handful of shortcuts in your notification center. You can put several of your favorite apps, contacts, or bookmarks inside this widget, making them available from almost anywhere.
Quick Notes - Notes with widget
Instead of looking for the Notes app, this widget allows you to just swipe down and quickly jot down something of great import right in your notification screen. Undoubtedly, a pretty useful and handy iOS widget.
iOS does not provide its users with a graph that represents battery usage yet. Fortunately, if you are into this kind of information, this widget will provide you with a pretty good understanding of when your battery has discharged the fastest.
Quick Bird - Today Widget for Twitter
Avid Twitter user? Thanks to this widget, any new tweets from the people you follow will appear straight in your notification center, just a swipe away from anywhere. The widget will display up to 50 tweets.
While it's not necessarily a handy widget, Quote Widget has more than 100,000 quotes from famous people that will grace your notification drawer. Not pretty useful, but nice.
Weather widgets are nothing new, but this one is one step ahead in terms of the data it provides. It displays hi-res "radar mosaics for the continental United States AND images directly generated from raw Nexrad Level 3 station data", which means that you can really see what's the weather right above you.