Beats president confirms it will be on "several new" HTC devices this fall
4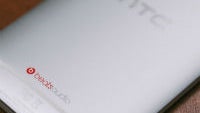 Last week, the breakup became official that Beats will be buying back the
25% stake
in the company currently owned by HTC. But, that deal has not yet been completed, nor has the commercial deal between Beats and HTC. There has been speculation that upcoming HTC devices like the HTC One Max might not include Beats because of the breakup, but the Beats president Luke Wood has set the record straight.
They still have a 25 percent investment in the company, and additionally we still have a commercial deal with them, around the HTC One and
several new devices
coming out this fall. We have a large-format HTC device out in the fall – I don't even know if they've announced it yet – so we're still on that device.
We learned a lot of great things with HTC. Right now I can't comment as to whether that relationship will continue or not continue, but for Beats, it's been very productive, because we've done a lot of work [on HTC phones] and I'm very proud of the way those devices sound.
That "large-format device" is most likely the HTC One Max, but it is unclear what the other new devices might be. One could be the rumored HTC Windows Phone, and there has also been talk of an HTC tablet, although that chatter hasn't been pointing to this fall. Either way, right now Beats is still going to be on new HTC devices, but we can't say about what will happen down the road.