BBM 2.2 update brings simplified sign-up, new emoticons, and more goodies
9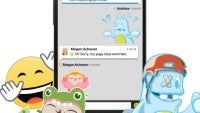 BBM users on Android and iOS should be looking forward to an update to version 2.2. In fact, Android users can already snag it from Google Play, while the iOS faithful will have to wait a little more. Actually, BlackBerry owners will have to wait the longest, but the company promised they will be in for a special treat. Hopefully, it will be worth the wait.
Anyway, the new release comes with a healthy set of improvements, starting with an easier sign-up process. BlackBerry has liquidated some fields that were considered unnecessary by users. Signing up has been distilled to providing a name, an e-mail, and a password.
Additionally, BlackBerry has simplified the way users add new BBM contacts through e-mail. When one receives a BBM invite in their inbox, all it takes is to click the link - no more PIN invites.
BBM 2.2 also features 16 new emoticons - "from a hotdog, and maracas, to a hacker and a pair of hot lips". Also, the "Updates" tab has been renamed to "Feeds", which better reflects the kind of stuff you'll find there - new posts, status, and profile updates from BBM contacts and channels.
source:
BlackBerry