Apple tugs at the heart strings for this holiday ad
12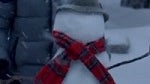 What better to warm the heart on a cold winter day than to gather the family around the fire for the holidays? Apple has a knack for sharing what that may be like for some of us around Christmastime.
For the advertisement, we see the Harris family from a couple different perspectives and the culmination of activities caught on one kid's iPhone in a presentation for the family. One notable demonstration was Apple's AirPlay.
Of course, the build up to that final presentation is the perception of a teen-aged kid getting lost in his gadget, ignoring the family fun time (hence, "misunderstood"). What he is really doing is capturing the moments and preparing a highlight reel of the holiday's events with the family.
In the second video, we get to see the entire collage, shot completely on an
Apple iPhone 5s
. All in all, it captures the essence of what many families do around this time of year. From snow sledding to snow angels, spirit of family, fun and the festive season make for an ad that will melt your snowman.
via:
Mashable