Apple to sell its 700 millionth iOS device next month
7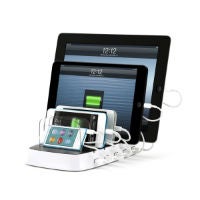 We're deep into today's Apple event for the new iPhones and in the leadup to the real announcements, Apple decided that it was time to drop a number on us. That number was 700 million. As in, Apple is expecting to sell its 700 millionth iOS device by the end of next month. Of course, that sounds pretty impressive, and it is, but we thought you might want a bit of context for that number.
First, it helps to know what exactly factors into that number. Most people only consider the iPhone and iPad when it comes to the term "iOS device", but that number does also include the iPod Touch. Also, it helps to keep in mind that in June at WWDC, Apple had announced that it had sold 600 million iOS devices. So, that means that since 2007 with the original iPhone, including every iPhone since, and each iPad, the iPad mini, and all of the iPod Touch devices, that number will soon hit 700 million.
The most impressive part of that number is really that Apple is just one company with a relative handful of devices. Google announced
1 billion Android devices
activated recently, when it also announced Android 4.4 KitKat. Of course, the Android number combines all of the hundreds of different Android devices around the world, although it doesn't count non-Google Androids, so it's quite hard to compare.
source: Apple