Apple iPhone 6 unboxing
66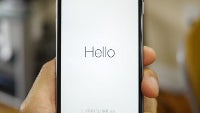 Drum roll please! The new Apple iPhone 6 officially went on sale today, and we're here to give you folks a sneak peek into Apple's latest and best iPhone to date. In standard fashion, the packaging of the phone is as typical Apple as it can get – where it's tucked inside a very compact, rectangular sized box. Underneath the phone, the box contains the usual staple of accessories we've come to expect from Apple, which include the lightning docking cable, wall charger, SIM removal tool, earpods, and those Apple logo stickers.
Before checking out the iPhone 6 meticulously from head-to-toe, the design is distinctively that of an iPhone, particularly due to its iconic home button. However, after hold it in our hands, we begin to take more notice of its redesign – one that's more rounded around the edges. Well, it still feel solid in the hand, thanks in part to its sturdy brushed aluminum chassis, which has taken a unibody direction this time around. Another apparent thing is its overall size! It's undoubtedly bigger in overall footprint, but it's pretty slick to find its profile being skinnier than ever before.
By now, you're all probably well aware about the specs, like its 4.7-inch Retina Display, 8-megapixel iSight camera, 64-bit based Apple A8 processor, so we won't get into all of that here. Instead, we're really curious to find out exactly how it performs – whether or not it has a significant punch over its predecessor in last year's iPhone 5s. Naturally, we'll be putting it through the paces to see its true worth. As we near the inevitable holiday season, the iPhone 6 will no doubt be a formidable handset in the space, but the main question is to what degree.
Don't forget to watch the video below and expect our in-depth review soon!