Amazon's next Alexa device will feature a 7-inch touchscreen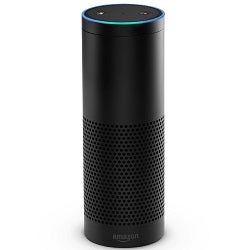 Amazon's Alexa AI is easily one of my favorite creations of the Seattle-based company. I've been a proud owner of the original Amazon Echo since it was first made available to just Prime customers, and it's been fantastic to see how far the Alexa platform has grown and matured since its initial release. The experience of using the Echo has gotten so much more enjoyable as time has gone on, but as Alexa has grown smarter, the Echo hardware itself still leaves me wanting a bit more at times. The device itself is built like a tank, and as much as I appreciate that aspect of it, I do find myself occasionally wishing that the actual audio quality was a bit better at times. A new report from
Bloomberg
suggests that Amazon is currently working on another Alexa-powered device, and it's looking like it could shape up to be the best one yet.
The new device is reportedly set to debut sometime in Q1 of 2017, and in addition to featuring updated speakers for all-around better audio quality, the new Alexa gadget will also come equipped with something quite special - a 7-inch touchscreen. This would result in the device being the first Echo product to feature any sort of built-in display, and it's reported that the screen will showcase information that's related to your interactions with Alexa. For example, asking for the weather would bring up a visual forecast, calling upon your calendar would showcase your upcoming appointments, etc. The positioning of the screen is also said to feature an upwards tilt, allowing for easier readability when it's placed on a counter or table.
The original Amazon Echo is still the most expensive item in the company's product line at $179.99, and we should expect this new addition to cost even more thanks to the improved speakers and inclusion of the 7-inch touchscreen. Amazon has to officially comment on this unnamed device, but seeing as how it's slated to be released within the first bit of next year, we shouldn't have to wait too much longer before we get official confirmation on Amazon's most powerful Echo yet.
PhoneArena is on Instagram
. Follow us to stay updated with fresh news and flashy media from the world of mobile!