Amazon Kindle phone once again rumored for mid-2013
9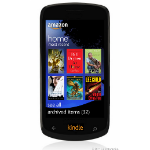 Let's get this out of the way right off of the bat: the title image on this article has absolutely no correlation to what the rumored Amazon Kindle phone may look like, it's just an image that we grabbed off of the Internet, because no real images exist. Whether or not you like how the phone in the image looks makes no difference, because, to repeat, the image is not real.
All that said, it looks like the rumor mill is swirling around Amazon again, saying that there will be a Kindle phone released sometime in mid-2013.This time the news is coming from the Taiwan Economic News, reporting that Foxconn is building the Kindle phone and aiming for a release in the middle of next year. The report claims that Amazon has designed the phone to hit a $100-200 unit price, which could mean that the phone would be priced on par with the Nexus 4. Word has it that Amazon has ordered 5 million units total.
The report also mentions that Amazon is working with touch panel makers J Touch and Young Fast Optoelectronics, which is interesting because J Touch recently announced a new 5-inch "WhiteMagic" screen designed to be brighter and more battery efficient. (video below.)
The report also seems to confirm news that we had heard last month from DigiTimes that Amazon had contracted
Foxconn to build
the Kindle phone.