Airplane pilots suspended because of using Snapchat mid-flight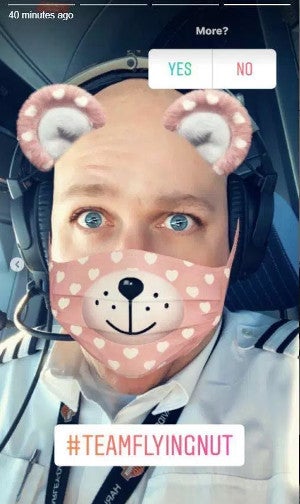 Airplane flights are not the most engaging trips. Staring out of the window is only an option for the first couple of minutes and watching TV shows will eventually become boring, so it might be a good idea to Snapchat some of your flying experience. Unless you're one of the airplane's pilots. Then you might get suspended from work.
During a flight from Paris to Madrid, easyJet pilot Michael Castellucci and his colleague took pictures and videos using some of Snapchat's funny filters, including the bear-ears doctor mask, the dancing aerobics instructor, and the owl. Mr. Castellucci then proceeded to post his "creations" onto his social media accounts, where he is active regularly, to show what pilots are capable of. Bad decision, captain.
"
So this is what pilots do when they're bored.
", "
Too much fun in the cockpit
.", and "
It's dangerous, unprofessional, and sends out the wrong image. High jinks in the cockpit at 30,000ft is never a good look.
" are just some of the comments regarding a video, posted on Snapchat by Mr. Castelluci. The video featured his co-pilot dancing alongside Snapchat's aerobics instructor filter, ignoring all aircraft controls. Mr. Castellucci has since deleted his social media accounts.
An easyJet spokesperson said the pilots' behavior was unacceptable and they'll be spoken to.