Additional picture of the BlackBerry Pearl 9105 gets snapped with its T9 keyboard
This article contains unofficial information.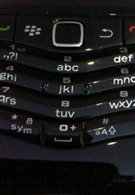 RIM will undoubtedly be venturing into a new territory as they embark on getting the BlackBerry Pearl 9105 fitted with a never been seen before T9 keyboard for their upcoming smartphone. RIM's devices have always been regarded as being a premium offering, but the line of Pearl smartphones drastically changed that mentality. Opting to go with a traditional T9 keyboard, this may appeal to some people who are turned away by the some times complex nature of RIM's products. The latest photos snapped also offers some insights as to what new input options are coming with the arrival of the T9-styled BlackBerry Pearl 9105. The new keyboard looks to support compound words, context learning, auto word learning, using contacts as a data source, and predictive typing. All in all, it's looking to offer the best experience in moving up from a basic cell phone to a smartphone – and the Pearl 9105 with the T9 keyboard looks to bridge the gap.
RIM BlackBerry Pearl 9100 Preliminary Specifications
via
Berry Review