5.5-inch iPhone may have faster internals than the iPhone 6
31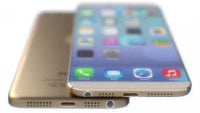 From everything that we've been hearing, the 4.7-inch iPhone 6 could be hitting the market before the 5.5-inch iPhone, and it seems there may be a reason for that. Apple might be taking a page from Samsung's playbook and having the larger iPhone also have faster internals than the iPhone 6, just like the Samsung Galaxy Note is a spec upgrade compared to the Galaxy S series.
According to supply chain sources for Cowen & Co. analyst Timothy Arcuri, the larger iPhone will almost certainly have a processor with a faster clock speed. This wouldn't be much of a surprise given that the iPad Air is also clocked faster than the iPad mini, despite using the same processor. However, it is possible that the larger iPhone may feature a larger die, which would allow room for more significant upgrades to things like the GPU and more.
It is possible that the two iPhones could also feature different touch modules, but that part of the rumor isn't as solid as the rest; and, it is also unclear exactly what it would mean in terms of functionality to have different touch modules in the two iPhones. With luck, we'll get to see both iPhones announced next month, and maybe get more information soon enough.
Recommended Stories