Toshiba Excite Write hands-on
4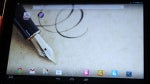 Introduction:
Whereas the Toshiba Excite Pure steers towards the affordable side of the spectrum, the
Toshiba Excite Write
plants itself is in the complete opposite end with its higher price point and imposing specs sheet. Beyond its hardware advantage in each category over its close sibling, the Excite Write, as its name implies, features a handy
digitizer stylus
that provides users with some note-taking functionality. Knowing that Sammy's Note line has been the class leader in this specific area, it'll be interesting to see how the Excite Write can innovate in this space.
Display:
Whoa, someone is surely looking to make a big splash right away! At this point, it makes us wonder if there will ever be an end to the amount of pixels we can expect to see on a 10.1-inch sized display. Honestly, we doubt that manufacturers will ever stop pushing the boundaries, as our desire seems to fuel them to keep on moving forward. With this, however, we got to admit that we're intrigued by its
10.1-inch 2560 x 1600 display
, which seems to utilize good old LCD technology. Obviously, the extreme resolution helps to shine some light on the tablet, but interestingly enough, we've seen it already with the Google Nexus 10. Nevertheless, it's
detailed and sharp
at all angles.
Although there's a lot of light being placed on its high resolution, the tablet also features a handy digitizer stylus that's been made popular by Samsung's Note line of devices. Naturally, it's used to jot down notes and also offers palm rejection, but beyond that, it seems as though Toshiba has thrown in a few optimizations with its functionality that you can check out in the video demonstration below. To be specific, it's most related to the apps that Toshiba has developed along with the Excite Write.
Design:
Unfortunately, Toshiba doesn't try to differentiate this offering from its lower cost sibling in the Toshiba Excite Pure, seeing that it looks almost identical. Donning the same
textured plastic casing
, there's not a whole lot of cutting edge style associated with the design of the Excite Write. Rather, it simply looks much like the other tablets it's fighting against in the same space. However, as much as we would've liked to see some new direction with the design, its sturdy construction seems to be maintained – so at least it doesn't come off as cheap, though, its price point will tell us otherwise.
Interface:
Staying true to Google's beliefs, the Toshiba Excite Pure is flaunting a vanilla Android experience – Jelly Bean to be exact. On the surface, there doesn't look like there's any tinkering from Toshiba, but then again, we're told that this unit that we're checking out is a pre-production one, so anything can happen between now and its release. As we've detailed already, Toshiba shows it presence in the apps that require the digitizer stylus.
Made to keep up with the times, this bad boy is powered by an
NVIDIA Tegra 4 processor
that screams effortlessly from what we can gather so far from our initial look. Certainly, the specs already deem it as a powerhouse that's fitting to play some serious 3D games, so you can sleep knowing that this won't be bogged down by anything trivial.
Expectations:
Currently, it's unseen whether the Toshiba Excite Write has the guts and notoriety to stand toe-to-toe with the elites in the Android tablet arena. On paper though, it's sure to impress everyone that even glances at it for a moment – more so when it's packing one heck of a detailed display and a mighty NVIDIA Tegra 4 processor under the hood. From what we're told, the Toshiba Excite Write is going to be priced at
$600
when it's released, which seems to be in a competitive price point right out of the gate. As an alternative, too, they will also be selling stylus-less version for
$500
, which will bear the
Toshiba Excite Pro
moniker.