T-Mobile offering unlimited data without contract starting tomorrow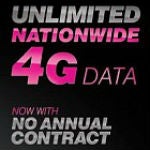 T-Mobile has been pushing hard to draw in customers recently. The company has been building out compatibility for iPhones and other unlocked devices, and dropping the price on its unlimited plans, and today moves forward that second item. T-Mobile has announced that starting tomorrow, it is going to offer unlimited data plans without a contract.
Combine that with T-Mobile's push to get rid of subsidies and you can see why T-Mobile is trying to brand itself the "Uncarrier". The new plans will offer unlimited data on the carrier's 4G HSPA+ network nationwide. Beginning Jan. 9, T-Mobile's Unlimited Nationwide 4G Data plan will be available with no annual contract for $70 per month.