T-Mobile announces zero down "sale" on all phones for the summer
25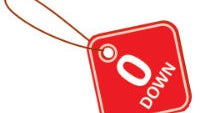 T-Mobile is announcing what it calls an "Unprecedented Deal" for this summer which offers zero down for all of the phones on the network. The carrier is even dropping the price of one of the most popular devices; but when you look closer, the deal isn't exactly as amazing as T-Mobile would have you believe.
The solid part of the deal is that over the course of a 24-month Equipment Installment Program (EIP), you can save a bit on certain devices, like the
HTC One, which will cost $600 over the EIP rather than $649
. Of course, you may already see where the not so great part of this "sale" is happening. While T-Mobile won't be collecting any up front payments for devices,
the monthly EIP will be higher, which offsets the value of the deal
.
For example, the iPhone 5 sells for $145.99 down with 24 monthly payments of $21; but with the new promotion, the iPhone 5 will be zero down and $27 per month for 24 months, meaning you'll end up paying just $1.99 less than if there had been the up front payment. The press release below has a breakdown of the monthly costs of the most popular devices on the network.
As we said, some devices will get you more of a discount over the length of the EIP, but most savings won't be more than about $50. The zero down deal will begin tomorrow, July 27th, through your local T-Mobile retailer, and online.
T-Mobile Promotes Unprecedented Deal This Summer – Zero Dollars Down for All Devices
America's Un-carrier offers the ultimate promotion with the lowest upfront price on devices
BELLEVUE, Wash. — July 26, 2013 — In time for back-to-school, T-Mobile US, Inc. (NYSE: TMUS) will drive an unparalleled promotion this summer, dropping the upfront price on its entire lineup of devices in stores nationwide to zero dollars down. With this promotion, new and existing well-qualified consumers and small business customers will get affordable and hassle-free access to the latest 4G LTE smartphones, tablets, mobile hotspots and feature phones at the upfront price of $0 down with monthly device payments[1].
This limited-time promotion is available starting tomorrow, July 27, 2013. In addition to the promotion, customers also cantake advantage of T-Mobile's groundbreaking upgrade program, JUMP!™, which enables them to sign up to upgrade their phones when they want, up to twice a year as soon as six months from enrollment.
"The number of reasons not to switch to T-Mobile this summer is ZERO," said John Legere, president and chief executive officer, T-Mobile US. "This is a fantastic offer and we're making it easier than ever for customers to get the latest amazing devices. Adding Zero Down in addition to JUMP!, and Simple Choice with no contract is all about making wireless work for consumers and shaking up this industry."
The hottest devices of the summer at the lowest upfront cost combined with T-Mobile's Simple Choice Plan, unlimited data on a nationwide 4G network and no annual service contracts gives customers an opportunity that's tough to beat. The promotion will be available nationwide at participating T-Mobile retail stores, via customer care, and online at http://www.T-Mobile.com. A selection of the devices included in the promotion is as follows:
Screen Shot 2013-07-26 at 9.23.25 AM
JUMP!
JUMP!, only from T-Mobile, offers customers the freedom to upgrade to a new device more frequently and affordably, and it includes handset protection that helps to protect against malfunction, damage, loss or theft – all for just $10 per month, per phone (plus taxes and fees). Customers can upgrade to a new phone, financed through T-Mobile's Equipment Installment Program (EIP), twice every 12 months after they've been in the JUMP! program for six months.[3] Simply trade in an eligible T-Mobile phone in good working condition at a participating store location. Any remaining EIP payments will be eliminated, and current customers can purchase new phones for the same upfront pricing as new customers, with device financing3 and a no-annual-service contract Simple Choice Plan.
Simple Choice Plan
T-Mobile's Simple Choice and Simple Choice for Business Plan start with a base rate of $50 per month for unlimited talk, text and Web with 500MB of high-speed data. Customers can get 2.5GB of high-speed data for $10 more per month per line or unlimited data for an additional $20 per month per line. Customers can add a second phone line for $30 per month, and each additional line is just $10 per month. There are no caps and no overages on T-Mobile's network, and no restrictive annual service contracts.
When small business customers activate a new line or renew an existing line of service with a Simple Choice for Business plan (min. 500 MB data required), they can access T-Mobile's Business Extras bundle for added value. Business Extras customers with capable devices may opt into a free year of 24/7 remote IT support from a well-recognized, third-party service provider and a year of T-Mobile North American Flat-rate Data feature, allowing free monthly access to up to 150MB of overage-free, high-speed data across North America, including Canada and Mexico on our partner networks.[4] Other benefits include two free paper-to-mobile form conversions, waived activation fees, Business Care support, Wi-Fi Calling on enabled devices, and free Smartphone Mobile Hotspot on select rate plans.
T-Mobile's 4G LTE Network
T-Mobile's 4G LTE network now reaches more than 157 million people across the United States and is live in 116 metropolitan areas. T-Mobile remains on target to deliver nationwide 4G LTE coverage by the end of the year, reaching 200 million people in more than 200 metropolitan areas. In addition, T-Mobile's 4G HSPA+ service is available to 228 million people nationwide. By combining 4G HSPA+ and LTE network technologies, T-Mobile can provide customers with a strong, seamless nationwide 4G network experience[5].