Rumors say iris scanners coming to more phones in the future, including Apple's iPhones
22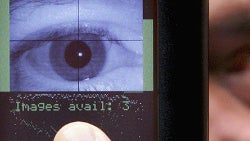 As we know thanks to an overwhelming amount of leaks and reports,
Samsung's Galaxy Note 7
, which we are about to see unveiled
on the 2nd of August
, will have an iris scanner module. While not an industry first, it certainly is the first high-profile Android device to have such technology installed, and all eyes are turned to Samsung, waiting to see if the implementation will work great or fail badly (a-la
Galaxy S5
fingerprint scanner, if you will).
Whether it will be good or not, however, doesn't change the fact that the road has been paved for more devices to come out with iris scanner locks, hopefully improving on the technology in the process. According to reports from alleged industry insiders, some of the less-known China-based companies, such as Xiaomi, LeEco, and 360 Qiku are already developing their own versions of phone-mounted iris scanners.
According to the same sources, Apple has been working on the new biometric tech as well, however, we won't be seeing an iris scanner on an iPhone before 2018.
The stream of rumors is accompanied by reports that part manufacturers Qualcomm, Truly Opto-Electronics, O-film Tech, and Beijing IrisKing have all increased production of their biometric scanner solutions.
Fingerprint scanners have gotten to the point they are accurate, fast, and cheap enough to be installed on lower tier devices. However, they are not 100% secure, as hackers have shown that spoofing the owner's print is easy, and gaining access to their phone is possible. In the age when we fill our smartphones to the brim with our sensitive information, it only makes sense that manufacturers would try to offer an even better type of protection. Iris scans are thought to be nigh un-spoofable, which is why this has been chosen as the next step.