Research firm head says Samsung needs to step it up, as its users are upgrading to other Androids
44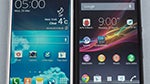 Paul Moore, the global director at
Kantar Worldpanel ComTech
, research analysts, has commented on the current state of affairs for Android, and especially for Samsung. He mentioned in an interview that Android is running amok in Europe, grabbing
70.4% of the marketshare
, while in the US Apple's expanded distribution with T-Mobile, for example, as well as the aggressive Windows Phone marketing, have kept Google's mobile OS barely growing last year, though it still keeps the majority with 52% of the market.
The other trend his researchers noticed is that Samsung is losing its appeal in Android's European stronghold - while about half of European smartphones sold are still Samsung devices, brand loyalty is less than Apple's, for example, which commands merely 17.8% of the EU market.
Not only that, but on its own Android turf Samsung seems to be no longer leaps and bounds before other manufacturers. HTC came out with the excellent
One
handset, and Sony issued the waterproof
Xperia Z
, to which Samsung just now launched the
S4 Active
for a head-to-head. As a result, Sony is up and coming in the UK, for instance, and a lot of users are switching when their time for upgrade comes, says Paul Moore:
The flagship Xperia Z has driven Sony's growth in Britain by successfully appealing to Samsung customers. Some 38% of Xperia's users are ex-Samsung owners, the majority of whom have upgraded from the Galaxy S2.

Samsung now finds itself in a position where, after two years of relentless growth, it must focus on keeping its existing base of customers loyal if it is to maintain its success. As it stands, Samsung has the second highest loyalty rate in Britain (59%), but this falls well short of Apple (79%). With the competition dramatically upping their game in terms of build quality and content innovation, Samsung will have to work hard to convince its 8.8 million customers to stick with the brand.