Nationwide test reveals carrier 3G, 4G speeds across cities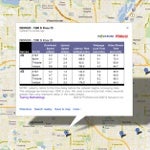 The expansion to 4G LTE networks andnew, faster data networks, carriers have started throwing buzzwordslike HSPA, HSPA+ (officially 4G) and 4G LTE around, and you mightfeel lost about the actual speeds you are promised. The mostcomprehensive test of carrier data speeds we've seen is one done byPCWorld, where the publication tested how 3G and 4G performed in 13of the biggest US cities.
The initial results were releasedearlier with T-Mobile grabbing the 3G crown and for 4G it was a closerace between AT&T and Verizon, but the latter has more coveragewhich gives it an edge.
And for 4G the situation was even morestratified. AT&T's 4G blew the competition out of the water in Atlanta, Boston, Las Vegas, LosAngeles, and San Francisco. Verizon was the best 4G choice in Denver,New Orleans, San Jose, and Seattle.
So bottomline is that much of it alldepends on location. Even the big loser, Sprint's WiMAX had a solidperformance in some markets like Boston. So when picking yourcarrier, check out how each of the major US operators scored indifferent markets and make an informed decision for your region.
It'sall at the source link below, along with a map, convenientlyvisualizing the results.
source: PCWorld, Speed test map