MacGyver might even make good use out of the ReadyCase for the iPhone
14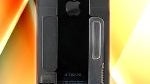 Talk about versatility! Well, if you grew up back in the 80s, you'll surely remember the always inventive MacGyver, who managed to somehow always get out of situations by coming up with homemade goodies. Interestingly enough, we might actually have an iPhone case that's worthy enough to appease good 'ole MacGyver himself.
If you're looking for that
all-in-one type of case for the iPhone 4/4S/5
, you don't need to look any further than the
ReadyCase
. In maintaining the smartphone's slim figure, the ReadyCase is constructed out of aerospace grade composite materials, but even better, it's form fitting to minimize the bulk normally associated with cases. Going beyond that, however, is the fact that the ReadyCase is seemingly the Swiss Army knife of all iPhone cases.
Specifically, it also features a
USB thumb drive
(8GB or 16GB), an adjustable
kickstand
for landscape/portrait viewing,
quick-snapping lens rings
that provide for macro/fish eye/wide angle shots, and a
multi tool set
that consists of a standard blade, serrated blade, flat head screwdriver, and a bottle opener. Heck, we're almost certain that MacGyver can cook up some crazy contraption with the help of the ReadyCase.
Are you not sold by its versatility? Well, then you ought to check out the video below to see what the commotion is all about. As for price, you can make a
$40 pledge
on Kickstarter to guarantee yourself the base model of the ReadyCase – the 8GB flash drive model. Depending on which one you choose, its price ranges from
$40 up to $150
for the Limited Edition one.
source:
ReadyCase