Infographic shows why manufacturers will keep on producing giant-screened smartphones
22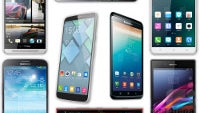 A study by Jana, the findings of which are outlined in the below infographic, offers insight into why manufacturers keep on sticking with the trend of ever bigger smartphone display sizes. Turns out, the reason is pretty simple, at least for the folks that were within the scope of the study (developing countries) -- consumers
like
big smartphones.
The folks behind Jana polled nearly 1,400 people in Brazil, India, Indonesia, Kenya, Mexico, Nigeria, the Philippines, South Africa, and Vietnam, asking them what screen size they expect their next smartphone to have. The split is best viewed in the charts below, but it should be pointed out that a very large part of respondents answered either 5.5" or 5.5'' and above. In fact, in countries like South Africa and Brazil, the 5.5''+ category received by far the most votes.
According to the researches, a good explanation for the popularity of large-screened device, specifically in emerging countries where most consumers have a limited disposable income, is precisely about money. Indeed, for some people a smartphone is their first real tether to the internet, and their smartphone is often more than just a device for placing calls or messing around with apps -- it's also a home cinema and a games console.
All said, with the premium tier being in a state of near duopoly between Samsung and Apple, it's actually only reasonable for manufacturers to chase trends in the lower cost segments, and especially in emerging countries.