Hands-on with Nokia 8800 Arte
3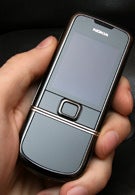 Aside from that, Arte can show you the time, by just tapping the bottom front panel twice. Another convenient feature is the option to mute the phone, by only turning it face down on the table, which can be very convenient while in an important meeting, for example.
Nokia 8800 Arte Specifications
Expect our full review soon!