Apple recruits more suppliers to combat production shortages
2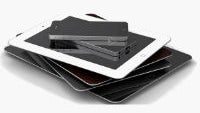 There have been continuous reports for the past couple months that Apple was facing production shortages on a couple of its new flagship devices. Both the iPhone 5s and the iPad mini Retina have been having production issues that cut into supplies; but, a new report from
The Wall Street Journal
is saying that Apple is finally fighting back to combat those shortages.
According to reports, Foxconn will continue to focus on filling orders of the iPhone 5s; but, Apple will be adding in Wistron - a company that currently builds for BlackBerry and Nokia - to build more of the iPhone 5c. Additionally, starting next year Apple is said to be bringing in Compal Communications to help manufacture the iPad mini.
Of course, while that may help to relieve supply issues for the iPhone 5s, adding a new supplier next year doesn't really do much to alleviate supply issues of the iPad mini Retina for this holiday season. Apple has also reportedly recruited more space for producing iPhones in China for next year, although Apple hasn't yet placed any orders.
Recommended Stories