Apple Watch 2 rumored to have a "one glass solution" to make it thinner
6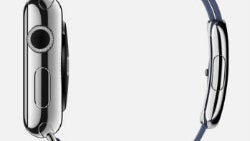 We've been hearing essentially since the original Apple Watch was announced that Apple would be making a concerted effort to make its second generation smartwatch thinner. At 10.5mm, the Apple Watch isn't really too thick compared to other popular smartwatches, but we all know Apple has device dysmorphia issues.
Now, we're getting a bit of info on how Apple intends to make the Watch 2 thinner without compromising important things like battery life. According to a new report, Apple will be switching from the glass-to-glass construction with the OLED display and adopt a new "one glass solution", which as you might be able to guess from the name would remove a layer of glass in the display thereby making the whole thing thinner. Of course, it's unclear how much one layer of glass adds to the overall thickness of an Apple Watch, but theoretically Apple has other ways to make things smaller as well.
All of that sounds pretty solid, but the trouble is that Apple partner TPK has apparently been having trouble keeping up the yield rates of these new "one glass solution" OLED displays. The report doesn't mention these troubles leading to any delays in the release of the Apple Watch 2, which is still expected before the end of the year, but it has cost TPK quite a bit of money.