Amazon patent filing for new Alexa feature could leave users concerned about their privacy
4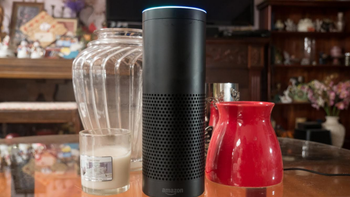 Anyone with an Alexa-enabled device knows that to summon the virtual assistant, you need to call out her name first followed by the task you wish her to handle. For example, if you want to know what T-Mobile's shares are trading for, you would say "Alexa, what is the stock price of T-Mobile." Or you might say, "Alexa, play 'And Your Bird Can Sing' by the Beatles." However, a new patent application that Amazon has filed with the United States Patent and Trademark Office (USPTO) would allow you to get Alexa to accomplish your task by stating it in a different way.

The patent application is titled "Pre-Wakeword Speech Processing," and is all about a system that will capture and process the words spoken by an Alexa owner before the wakeword (or hotword) is spoken. In other words, Alexa will record what you are saying prior to the utterance of her name. An illustration that accompanied the filing shows that you'll be able to say "Play '
And Your Bird Can Sing
' Alexa, by the Beatles," and have the song streamed. Right now, asking Alexa to do something in this manner will not work.
Privacy advocates are sure to be upset by this, although Amazon writes in the filing that all of the captured dialogue does not need to be sent through Amazon's servers "thus addressing privacy concerns associated with an 'always-on' speech processing system." Amazon also says that it might need to record only 10 to 30 seconds of speech at a time to mollify those concerned about privacy issues.
Amazon says it might not ever implement the technology in the patent

The patent says that once the wakeword is said, it looks for the most recent pause in the dialogue; everything said after that pause up to the wakeword is sent to an Amazon server for processing. But why even bother filing this patent? Because, as the authors of the patent application point out, current systems used to process speech are designed to ignore everything until the wakeword is spoken. The technology used in the patent will allow users to phrase requests for Alexa in a more natural way. Amazon says that it has not already implemented the technology listed in the patent (try it yourself on an Echo device) and may never implement the changes as laid out in the application.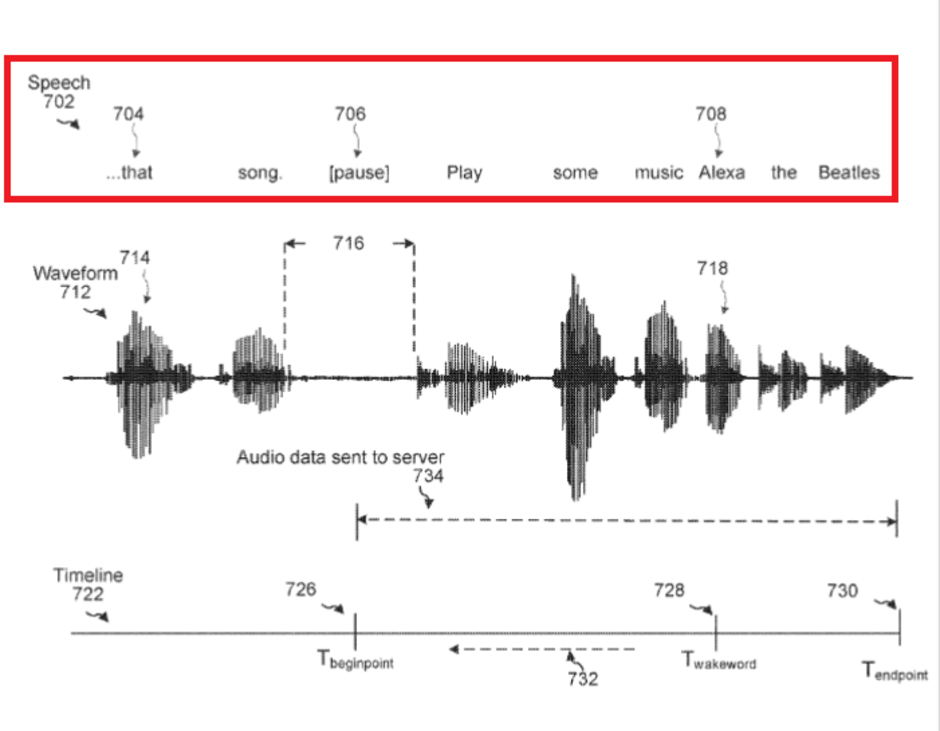 Illustration from Amazon's patent application
Amazon first introduced Alexa when it introduced the Echo smart speaker in 2015 creating a whole new product category. Alexa is also available on some non-Amazon speakers and on all Android phones. This requires an Android phone user to download the
Amazon Alexa app
. Open the app, tap the Alexa icon at the bottom of the screen and give Alexa permission to access your phone's microphone. From that point forward, you can say "Alexa" to use Amazon's assistant on your Android handset. You can also make Alexa the default assistant on your phone by following the aforementioned instructions and then going to
Settings
>
Apps & notifications
>
Default apps
>
Assist & voice input
. At that point, choose Alexa over Google Assistant.
Alexa, of course, isn't the only personal assistant that allows users to get help by using a wakeword. The Google Assistant, in fact, has two ('OK, Google' and 'Hey Google') and Siri has its 'Hey Siri' wakeword. Alexa, Google Assistant, and Siri are considered the top three virtual helpers with Google Assistant arguably on top, followed by Alexa and then Siri.