5 gadgets for (overly) paranoid smartphone users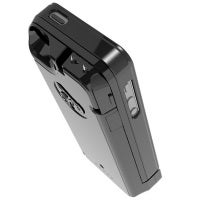 When we finished this article, we concluded that one may consider themselves paranoid all they want, but you can never be truly paranoid unless you start carrying your cash inside your iPhone case, which also doubles as a darn stun gun, while you're using your phone to monitor where your kids and the dog are going right about now. That's the kind of stuff you'll be getting into with this humble selection of five gadgets for the (overly) paranoid mobile users.
We bet there are tens more creative ideas out there, but that's all we could muster before we lapsed into the dilemma of getting - or not getting - the iPhone stun gun case (pictured left). It's so glorious, it literally makes your iPhone stunning! Anyway, have fun seeing these examples of creative extremism, and come in with your own discoveries if you have any to share.