Moga Rebel Review
1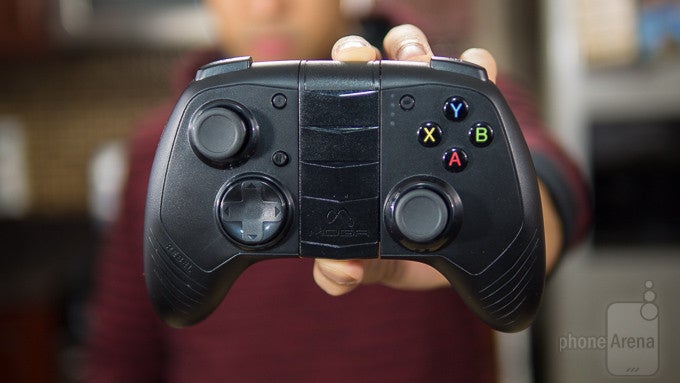 Introduction
Moga is one of the bigger names in the mobile gaming space that's been quite busy establishing itself with its line of Bluetooth enabled gamepads, which help to bridge the gap between the experience we get from traditional home consoles and mobile devices. After gaining attention with its portfolio of Android compatible gamepads, they finally went forward and delivered its first model for iOS – the
Moga Ace Power
. Unfortunately, the Ace Power felt too clunky and toyish in design to make it a versatile option for serious gamers. Well, it seems they're making right with its latest offering in the Moga Rebel.
Packaging contains:
microUSB cable
Quick start guide
Design
A considerable step up over the Moga Ace Power, the Moga Rebel sports the design and layout to make it a useable controller.
Seriously, it's like night and day between the Moga Ace Power and the Rebel, thanks largely in part to the Rebel's more ideal design and logical layout. In all fairness, the Rebel looks very much like the solidly constructed gaming controllers we've seen them make for Android – where it mimics the styling, comfort, and feel we get from traditional home console controllers.
Just like its other models, the Moga Rebel is completely constructed out of plastic, which gives it a slick feel in the hand, but it's deceptively lightweight. It's extremely lightweight to the point that it feels hollow, but we're not complaining too much about it, just because it makes it easy for travel. At the same time, it's super comfortable to hold with our hands, as it features a very ergonomic design that naturally allows us to grip its sides properly.
Unlike the Ace Power, the Rebel offers real dual-analog controllers for precision – whereas before with the Ace Power, they were more like short nubs that lacked fine control. In addition, it features the wealth of buttons and triggers we'd want to find in a handy controller, like a d-pad, four action buttons, shoulder buttons, and analog triggers. Interestingly, everything is pressure sensitive, so it's able to distinguish presses that are light, firm, and everything in between. We have few complaints about its offering, but we really wished that its dual-analog sticks could be pressed down as well – to follow the operation we get in console grade controllers.
There's a microUSB port towards the top section of the Rebel that's used to charge its internal 680 mAh battery, while along the bottom area, there's a simple on/off switch. A staple in Moga's collection, the Rebel offers the convenience of holding an iPhone or iPod touch with the help from its S.M.R.T. Lock Arm, which can even accommodate the hefty sized iPhone 6 Plus. Of course, this method is ideal when playing games on-the-go, but the Rebel can still be used independently.