You can now get your Samsung Vibrant for free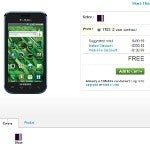 On December 15 we told you that T-Mobile is
set to discount
the
Samsung Vibrant
to $150 and now the fourth-largest US carrier has set a price of ... $0 for this handset. This nicely coincides with the
T-Mobile BOGO
offer that's still in effect (until January 18), so if you are eager to buy a high-end T-Mo smartphone, this is the day and this is the hour to act.
With the
Nexus S
's release, the end of the holiday season and the
upcoming dual-core running
handsets, which are already on the horizon, it definitely makes sense that T-Mobile is slashing the price of one of its heavyweights. Because, even though it's not the newest smartphone in T-Mo's line-up, the Samsung Vibrant is still a mighty smartphone that gets the job done.
source:
T-Mobile
via
T-Mo News