Toshiba TransferJet chips to go into phones next year, beam 1080p movies in seconds
8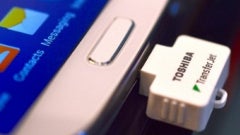 Toshiba's
TransferJet
technology might require an adapter to beam those Full HD movies in the blink of an eye to another device, but the company is planning to make an embedded chip that is to into the smartphones themselves next year.
The TransferJet adapters can now be attached to Android handsets, allowing ultra fast, up to 560 Mbps speeds, which is more than double the theoretical speeds of the Wi-Fi Direct option many handsets use now.
At the same time, Toshiba claims that TransferJet uses less power than Bluetooth and all that is required is for the transmitting and receiving devices to be close enough to each other. A pair of the tiny adapters now come for about $100, but in the future the TransferJet chips will be planted into phones, tablets and other gear, rivaling cable connection speeds.