The Effective Power bug in iOS explained, or why an obscure message may be causing iPhones to crash
99+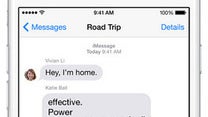 It goes without saying that the more sophisticated a piece of software is, the higher the chance of something going wrong with it. That's why a bug-free operating system does not exist – even Apple's iOS can be glitchy despite the company's rigorous testing methodologies. The recently discovered Effective Power bug in iOS' Messages app is a perfect example of this. As we reported on Wednesday, receiving a specific string of text
may crash an iPhone
and render its Messages app useless after the reboot.
Thankfully,
Apple was quick to post a workaround to the bug
and confirm that a fix was in the works. But it never revealed what was actually causing iPhones to crash upon receiving the obscure string of text. This allowed for several theories as to what's to blame for the glitch to arise, and the one we'd like to share could really be onto something.
It is speculated that the root cause of the Effective Power bug could be the way iOS displays incoming message notifications. When a new text arrives, only the first few words are displayed in the notification banner. They're followed by an ellipsis sign (...) indicating that the remainder of the message is hidden. But the malicious piece of text contains a bunch of arabic characters that iOS cannot separate properly. As a result, the portion of text that iOS tries to show in the banner notification ends up being too long to fit, and this in turn causes the phone to crash.
Of course, the theory might be inaccurate in one way or another, but it sure sounds like a plausible explanation. Has your iPhone fallen victim to the glitch? Let us know in the comments section, and check out this guide on
how to recover from the "effective power" bug
if your Messages app has become inaccessible.