Tablets get ranked by repairability: Dell XPS 10 is first, Surface Pro and the iPads last
11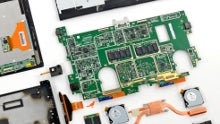 The crafty folks from iFixit are always unsoldering something the minute it hits the shelves to see what makes it tick, and are an invaluable source of components and repairability information for our smartphones and tablets.
Recently they took apart the
Surface Pro
, which turned to be packed so tight together that they gave it the
lowest repairability score
in the quiver. Since the shop has a rating system, it was only a matter of time before they release a ranking, and you can check it out in the source link - from best to worst for tinkering with.
First in line is the
Dell XPS 10
, followed by the
Kindle Fire
, and at the tail of the ranking list are Apple's aluminum slates, and the above-mentioned Surface Pro Windows 8 tablet.