Shipment of the iPhone 4 in white arrives at Virgin Mobile Canada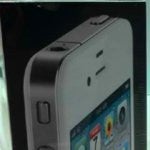 You can clearly begin to feel the anticipation starting to engulf people around the world regarding the white version of the iPhone 4, but for our friends located north of the border, they're poised to soon being able to experience it fully – much like the rest of the world at this point.
Apparently, it seems as though a shipment of the
iPhone 4 in white
has arrived at one lucky
Virgin Mobile Canada
store. And based upon the cursory photo snapped of it, it appears to follow accordingly to other
retail packages we've seen with the handset
. Although its arrival might signal the onset of the inevitable, there is still no date officially attached to its availability in Canada.
Nonetheless, you can't deny that it'll be here sooner than later – especially considering there has been one extremely long wait for it.
source:
MobileSyrup