Record your life with Lifeblog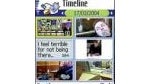 Nokia is developing software that automatically arranges all messages, images, videos and sound clips captured with their phones on a timeline. To the collection with images, people can add from other digital video and still cameras. The Lifeblog software runs on a PC and organise the information about people lifes on handsets that can shoot still or moving images. The cut-down version that runs on a handset will allow people to see how the content they capture is being arranged. The tools included with Lifeblog will allow pople to publish the information online to a weblog.
The Version 1.0 of Lifeblog will be available by the end of June and first phone to have the software on-board will be the recently announced 6620. The Lifeblog will not work with Series 60 phone, because the connectivity layer of later phones has changed.