R.I.P., G1, it was good knowing you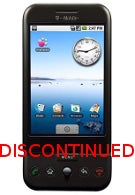 When the G1 appeared on T-Mobile, it had a hefty amount of curiosity factor built-in, being the first device with Google's own mobile OS since they bought the Android startup. The interface wasn't that polished and functional, and there weren't much, if any, apps behind it, so the year-old iPhone felt it had nothing to worry about.
With a swarm of dedicated owners and developers, though, the G1 outgrew its purpose and became a hardware platform for all kinds of Android ROM cooking, skinning, and application efforts. It even got graced with
Android 2.2 lately
, but after two years in existence, T-Mobile pulled the plug on the handset sales yesterday, and from now on it will only be a collector's item. Don't throw your bricked G1s yet, they might be worth a fortune when the little green robot
conquers the world
.
T-Mobile G1 Specifications
|
Review
source:
AndroidCentral