Newsday reveals the one thing that newspapers are still good for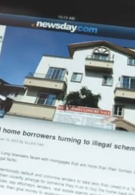 With readership of newspapers in the U.S. down sharply, many of the country's great papers have shut down. Others have decided to join the enemy by creating a strong online presence, including offering an application for mobile devices. One paper that has courted online readers is Newsday. The tri-state metropolitan tabloid has even developed a special app for the iPad.
In a hilarious commercial for the Newsday iPad app, we get a glimpse of what iPad users can expect to see from their tablet version. And while it would appear that a growing number of Americans would rather grab their daily dose of news from the internet, there still is one thing that newspapers can do that their online version can't. Check out the video to find out what newspapers are still good for, and to get a much needed chuckle to make you feel better.
source:
IntoMobile