Google's Eric Schmidt and Jonathan Rosenberg talk about the company's culture, Apple, Amazon, Samsung, and Alibaba
12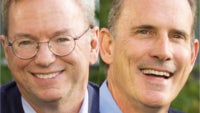 Google's executive chairman Eric Schmidt and former senior VP of Products Jonathan Rosenberg were co-authors of the book "How Google Works" - a piece, aimed to entertain and educate readers, while detailing everything the two authors have learned about corporate culture, strategy, talent, decision-making, communication, innovation, and dealing with disruption, for the 10+ years that they've spent in the company.
The duo sat down for a 15-minute interview with Bloomberg TV, to talk about Google's culture and ideology on products and innovating. The talk branched out to discussing Apple's new
iPhone 6
(spoiler – Schmidt said that Samsung had the same products out a year ago); market shares, strategies, and competition between iOS and Android; Amazon as a simultaneous competitor and partner to Google; Alibaba's potential move towards western markets; and others. Watch the full interview below.