Best to-do apps for Android to keep your life on track
2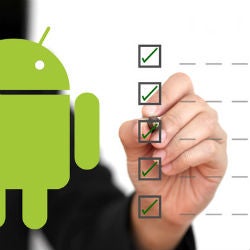 Keeping track of all the things you need to get done can be annoying at the least or complicated to the point of being nearly impossible at worst. Finding the right to-do list app can be just as frustrating for a few reasons, but we're hoping we can help you out with some of the best options for Android apps to help you organize your life.
There is no shortage of apps that will try to help you keep to-do lists, but we're trying to distill the basics of what you need in order to help you cut through the piles of options in order to get the best app for you. At the most basic level, a to-do list or agenda app should make it easy to add new tasks, make it easy to see what needs to be done and when and keep the process of creating a to-do list or organizing your agenda simple enough so the act of maintaining your to-do list doesn't get in the way of actually getting things done. Also, no matter how good an app may be, if it hasn't had a UI update since Android Gingerbread, you won't find it here (we're looking at you
DGT GTD
).
In this list, we'll be focusing on more minimalist options, because when you cross over into agenda apps things get more complex pretty fast and not everyone needs that.
The most minimalist
At the most basic level, you might just need a spot to drop reminders of things you need to get done. You can probably get away with simply using a checklist of a solid notes app, and there are dozens, if not hundreds or thousands, of options that can sync with Google Tasks for the simplest of to-do lists.
But, there are a couple good reasons to go with the Google-made options of either Keep or Inbox, like the fact that they are cross-platform and have web components which isn't the case with some other options. The best thing is that both allow you to set reminders for either specific times or locations, which is actually surprisingly hard to find in free apps. All of the best to-do apps you'll see listed below will give you options to set reminders for a specific time, but none offer location-based reminders for free and some don't give you the option even at the paid level.
Both Keep and Inbox have nice widgets to quickly add reminders and both integrate with Google Now voice commands. If you're a Gmail user and want your reminders right with your mail, Inbox is the option. If you want to keep things more separate, Keep can do what you need.
Choosing based on missing features
These are the options you want if you don't need a lot from a to-do list app, but want the benefits of a good, purpose-built widget, and some options for easily organizing and creating lists. As noted above though, all of these apps are going to be missing some features or will have features locked off behind paywalls. So, choosing the right to-do app actually ends up being more about finding the app that either has all of the features you want for free, or the app you don't mind paying for.
Todoist gets top marks because it has one of the best designs for adding a new task to your to-do list and one of the better designs for the homescreen widget as well. Todoist features an interesting "karma" system which gamifies your to-do list, giving you points for completing tasks which can help you get things done if you're that kind of person. Todoist also integrates with IFTTT and Zapier to let you put together some impressive workflows as well.
Todoist also has a solid feature set on the free level, including: recurring due dates and sub-tasks which are often locked behind the pay options on other apps. Most users probably won't even need to consider the paid version of Todoist, but if you do want to pony up the $28.99 per year you will get some nice added features like reminders (including location-based), task labels, task notes, adding tasks via email, and automatic backups. Probably the biggest missing feature from Todoist's free level is reminders though. You'll get a daily notification but even if you set a specific time for a task, you won't get the reminder unless you're paying.


Any.do has a more minimalist design and is a bit more pushy with its paid option, but its two standout features are the missed call pop-up which lets you decide put missed calls on your to-do list, call back right away, or send a message to the person that called, and the Any.do Moment, which pops up to help you triage what you need to do for the day. Unfortunately, Any.do has locked off Moment so you only can use it five times per month on the free level and you'd have to bump up to the $26.99 per year paid option to get unlimited Moments.
Any.do also offers a few options for free that you would have to pay for with Todoist, including repeating tasks, adding tasks via email, and task notes. You would still need to jump to the paid tier in order to get location-based reminders, better file attachments, and more customization options for repeating tasks. However, Any.do gets big marks off because it doesn't integrate with anything out there like IFTTT, so you have to want minimalism going in.
Wunderlist has the best suite of features on the free plan, but the design of the app is very utilitarian (even with the refreshed design in the past year.) Wunderlist just isn't as nice to use as Todoist or Any.do, but if you're looking for a more full-featured option, this is probably where you want to be. On the free level, Wunderlist gives you reminders, recurring reminders, subtasks, collaborative tasks, attachments, adding tasks via email, and smart lists that pull together items tagged for today or sometime in the next week. You also get options to star important tasks if you want.
Wunderlist does have some oddities though. For example, when you're in a specific list and trying to add a task, the app kills gesture typing in whatever keyboard you're on and forces touch typing. Also, there is no option for location-based reminders, even on the paid level. And, the paid level of Wunderlist, while not as necessary for most because of the wide free feature set, is the most expensive of all the apps we tried at $49.99 per year. Unless you're using Wunderlist in a team, the only options that might be worth the paid tier are getting unlimited size attachments and unlimited subtasks.
Overall, Wunderlist is a workhorse, it just doesn't
feel
as nice to use as other options, but you really can't get as many features for free as it offers.
Last up is if you want something more than just a to-do list. Maybe you need a to-do list that integrates with your calendar. If that's what you need. Keep an eye out, because we'll have those options on the way.