Best new iPhone, iPad and Android apps for August 2012
8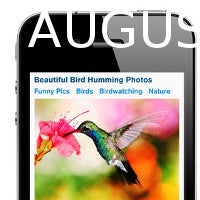 August has flown by quickly leaving us in September's slightly chilly embrace, but don't worry - things are just starting to heat up for the mobile industry with tons of new announcements and events scheduled for the coming weeks and months. In the meantime, app developers also churned out some amazing apps for Android and iOS. So many actually, that you'd have to spend a lot of time in app catalogs finding all the gems there.
That's why we bring you our own selection of only the finest applications released in August 2012. Android and iOS continue dominating the mobile platform landscape and with little Windows Phone releases we've left Microsoft's platform on the bench for this edition. It'd be back with a bang soon, though, as new devices and Windows Phone 8 nears release.
Right now, let's focus on the best that we've seen on Android and iOS. Among the big new arrivals are apps like Pinterest and Fancy for all of you loving beautiful things designs, things to pin and fancy. There's the usual couple of beautiful weather apps and a couple of productivity tools that are definitely worth your attention. Check them all out below and don't hesitate to hit us with your own app picks for August in the comments below!