Best apps for free SMS and cheap international calling
22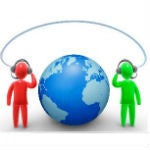 No one likes to pay for sending text messages, and no one should ever have to pay the ridiculous amounts that mobile carriers charge for international calling. So, we've put together the best apps for iPhone, Android, and Windows Phone to help you avoid these charges.
Of course, the number one thing to remember is that these apps will often be employing a couple tricks in order to save you money. The first will be to use VoIP for calling, which means you won't use minutes and will avoid those charges, but you will be using data, so you will still need to be careful to make sure your data plan can handle the usage, or just make sure you're always on WiFi.
The other trick, which is more limiting and annoying, is that many apps will only offer "free calling" or messaging to certain countries or only to users of the same app. So, if you want to go with one of those options, you'll have to make sure your friends are on the same service. But, there are ways to make it all work, if you're willing to put in a bit of effort.
Unfortunately, for the most part free international SMS doesn't really exist beyond a couple of limited apps, which we'll talk about in the slideshow. For international messaging, your best bet is still either e-mail, or a messaging service like iMessage, Facebook, Google+, Beluga, Kik, GroupMe, WhatsApp, or BlackBerry Messenger. The best you can do here is figure out which service your friends use, or you can convince your friends to join, and go with that.
Additionally, we haven't included popular video chat services like Viber, Tango, or Oovoo, because they don't offer international VoIP calls, those services only work if the person you want to contact also has the same app.
Now, on to the real SMS and calling apps!