Asus tweets "we've got things covered", teasing Nexus 7 tablet covers in flashy colors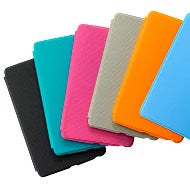 What's a tablet maker to do these days, when El Goog announces it has chosen its manufacturing prowess to create its
first Nexus tablet posterkid for Android 4.1 Jelly Bean
?
Why, do some covers, of course. It is already making a margin on the slates that Google sells at cost, starting at $199, so why not throw in some margin on accompanying accessories for a good measure.
Asus announced a number of covers for the
Google Nexus 7
on Twitter, because that's what you do nowadays, instead of using that old people's social network Facebook, and the covers are all over the rainbow span when it comes to coloring.