Affordable smartphones were 28% of all sold in 2012, to grow to 46% in six years
10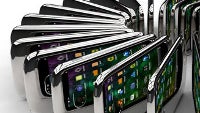 Smartphones priced at under $250 made up 28% of all sold in 2012, but their penetration will only grow and they are expected to constitute 46% of smartphones sold in 2018, according to ABI Research.
So while smartphones have undergone explosive growth in the last couple of years, there is some interesting segmentation within them. Low-cost smartphones - devices priced at under $250 - will increase from 259 million in 2013 to 788 million in 2018. At the same time, mid-range devices (sold for $250 to $400) and high-end smartphones will grow from 635 million to 925 million by 2018.
"As the feature phone segment continues to lose its battle for relevance, the low-cost smartphone has become the tool for operators seeking to drive increased data revenues,"
ABI Research senior analyst Michael Morgan said.
source:
ABI Research