Best phone tripods for video calls, vlogging, or live streaming
We may earn a commission if you make a purchase from the links on this page.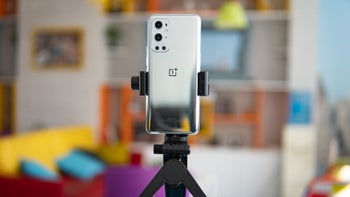 Phone tripods have become increasingly important in recent years as our phones have become better at recording high-quality video. Also, social media is now mainly focused on video content as well, since TikTok came to sweep everyone. Tripods are now, understandably, an essential ingredient for video content creators who upload footage to popular social media platforms like TikTok, Instagram, YouTube, and Twitch.
There is a plethora of phone tripods out there, and while most of them serve the same basic purpose of holding your phone in one place, many also come with their own niche quirks and features meant to accommodate different use cases. In this article, we have listed the best tripods you can buy depending on your needs in 2023.
Now, without further ado, let's dive in!
How to find the perfect phone tripod for you
The first thing you should figure out is why you need a tripod for your phone and actually how you're planning to use it. Maybe you want the tripod to be compact and light because you will be traveling with it a lot. Or maybe you want one to place at home and supplement it with some lighting. Durability and stability can be a major factors as well, especially if you are planning on taking the tripod in some harsh conditions.
Once you know how you will be using your new tripod, then you can start to think about extra features that would further benefit your situation. For example, some tripods can bend, which gives you more freedom when it comes to placement. Others, on the other hand, come with remote controls, allowing you interact with your phone from afar.
Now, with that being said, let's jump into the list we have here for you!

Sunpak - Portable Vlogging Kit for Smartphones
Best tripod for vlogging at home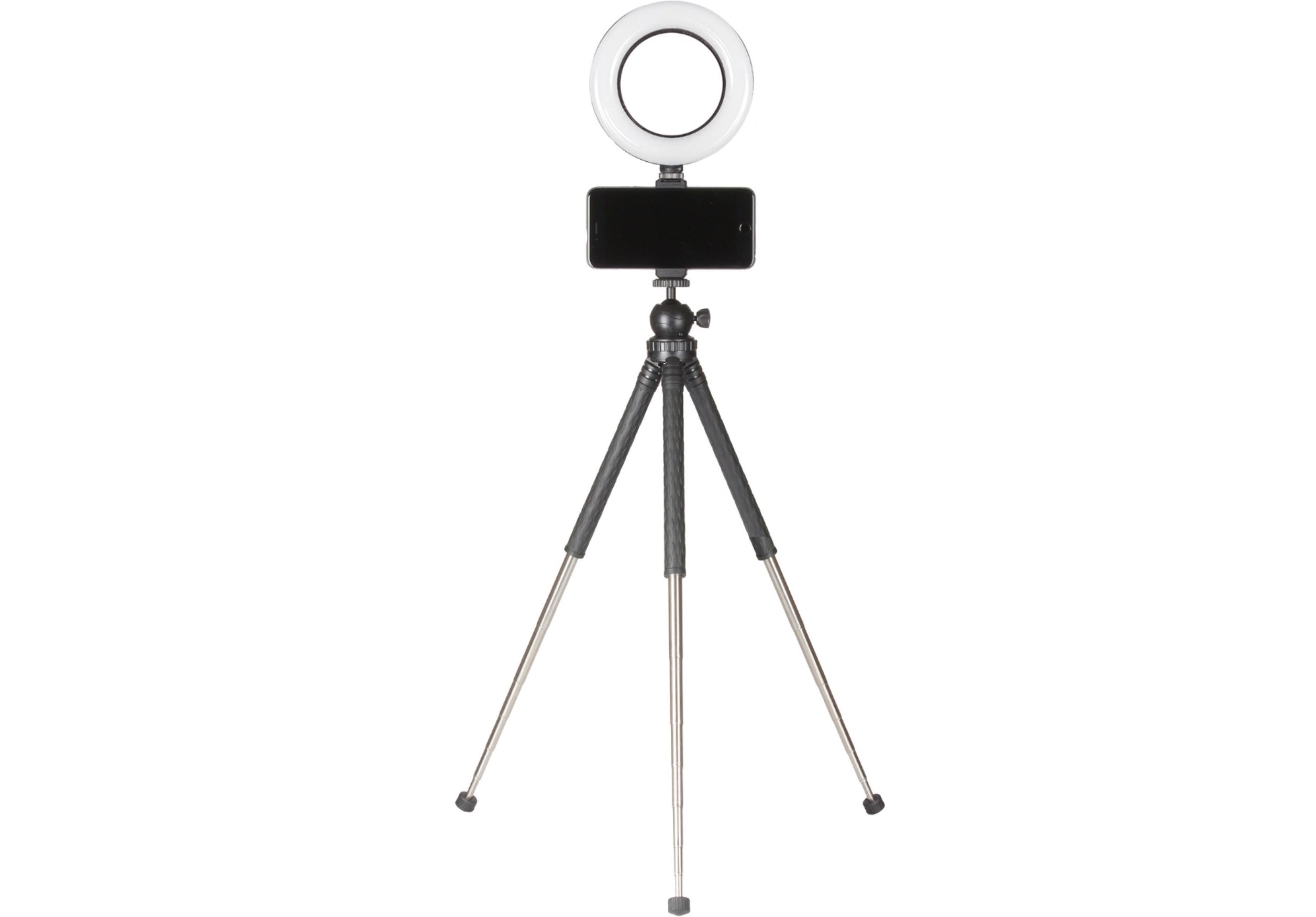 Phone Vlogging Kit by Sunpak.
Sunpak's offering comes with a 12-inch-tall tripod which extends up to 42 inches in height. The tripod can be used with either a smartphone or a dedicated camera. The tripod is specialized for shooting footage from a short to medium distance while indoors, as it comes with a 6-inch ring light that perfectly suits such conditions.
The ring light is USB powered and has brightness controls built into its cable. Since its maximum height is 42 inches, though, you will probably have to be sitting down while shooting. Either that, or you could place it on a surface to get the phone to your eye level. The Sunpak Portable Vlogging Kit is perfect if you are just starting up with vlogging at home.
Manfrotto MTPIXI PIXI Mini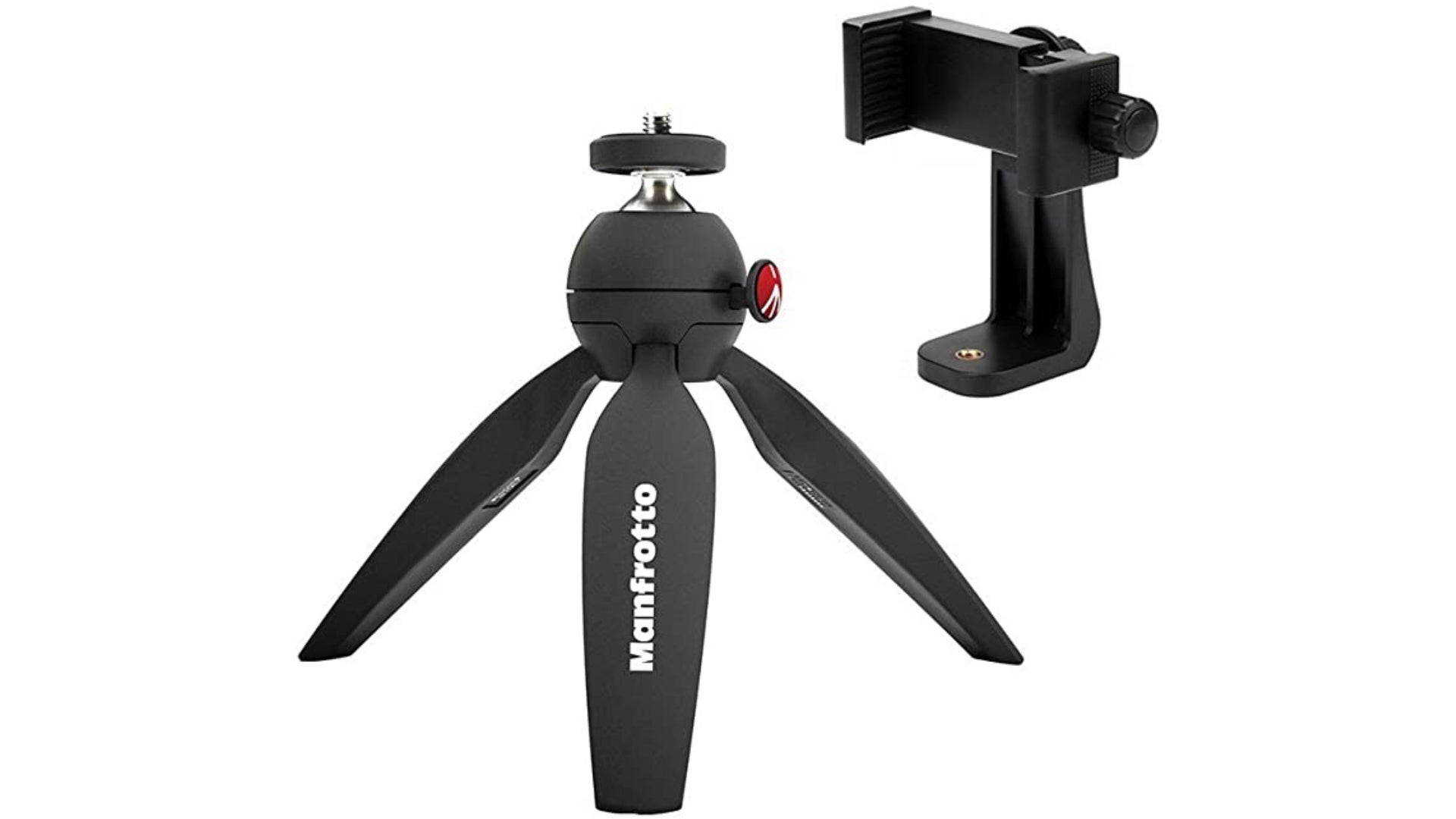 Manfrotto Pixi Mini compact tripod.
Manfrotto is one of the best tripod manufacturers on the market, so it is hard to go wrong when picking one of the options the company offers. This is true for the Manfrotto Pixi Mini too, which is one of the best compact and light phone tripods you can buy at the moment. It comes with is own ZAYKiR phone adapter that you can use to easily attach your phone.
It comes with a maximum height of 5.3 inches and can handle weight of up to 2.2 lb. Given that it is the shortest tripod on this list, it will be the most useful in situations where there is a surface where you can place it. You can also use the Pixi Mini as a grip to film yourself on the move.
Keep in might that because of its lightweight structure the Manfrotto Pixi Mini will not be very stable in windy conditions, so make sure to shield it from any strong wind when placing it on a surface.
DJI Osmo Mobile 6
Best for stabilized footage and travel vlogs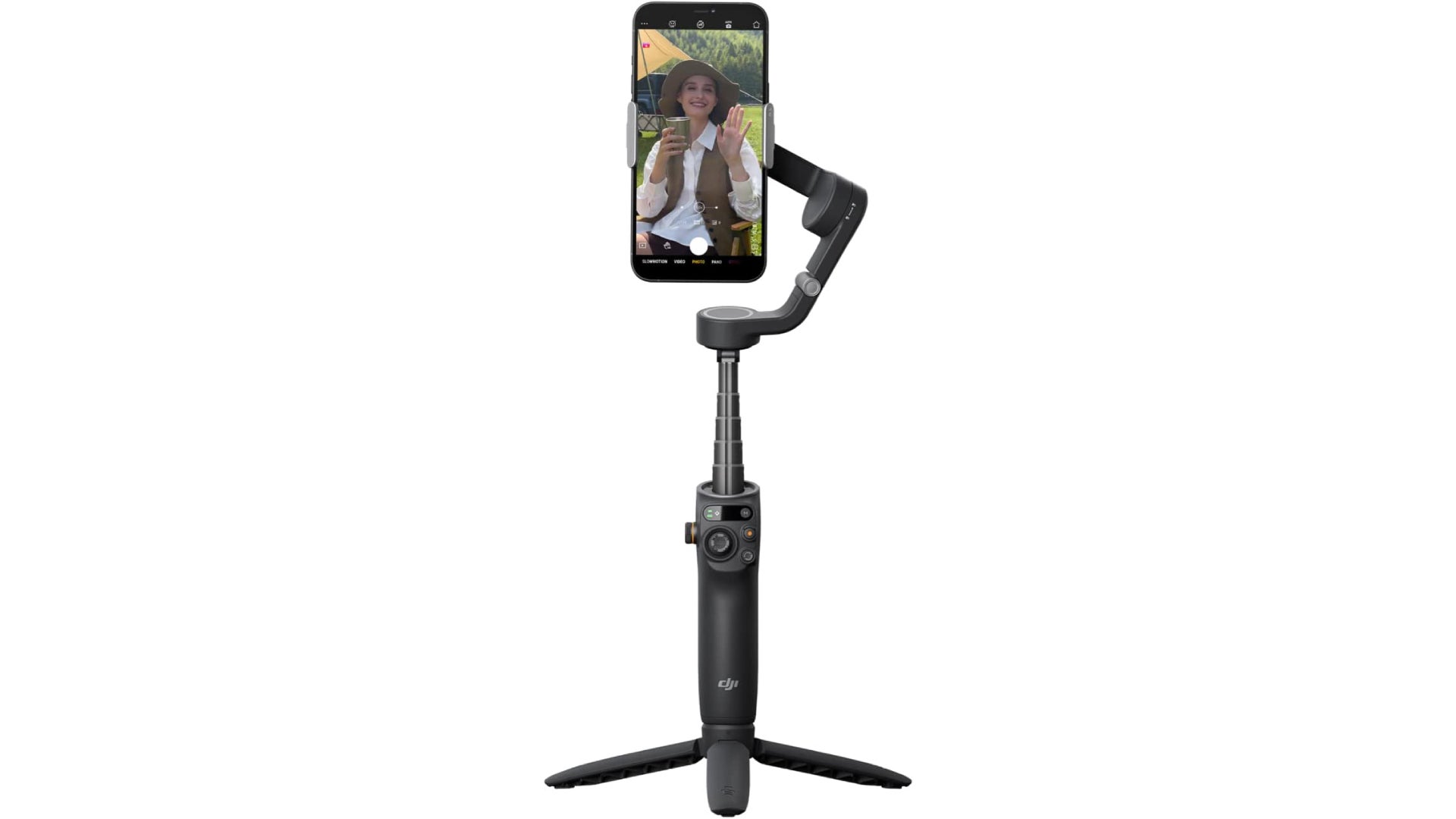 DJI Osmo Mobile 6 gimbal/tripod.
If you are looking for something to help you reach the next level of self recording, the DJI OM 5 is worth your consideration. One of the main strengths of the Osmo Mobile 6 is its 3-axis stabilization, making it a perfect purchase if you need to use your phone tripod handheld while moving. There is also support for ActiveTrack 5.0 onboard, which follows your subject reliably.
Since it folds and weighs only 12oz (340g), the Osmo Mobile 6 is super convenient while traveling. It is quick to use thanks to the magnetic phone clamp, which cuts down on the time you spend setting up your phone. Of course, it has three legs that, when opened, transform it into a mini tripod. On top of that, you can also extend the rod to capture more in the shot or achieve more creative angles.
Manfrotto ERlement MII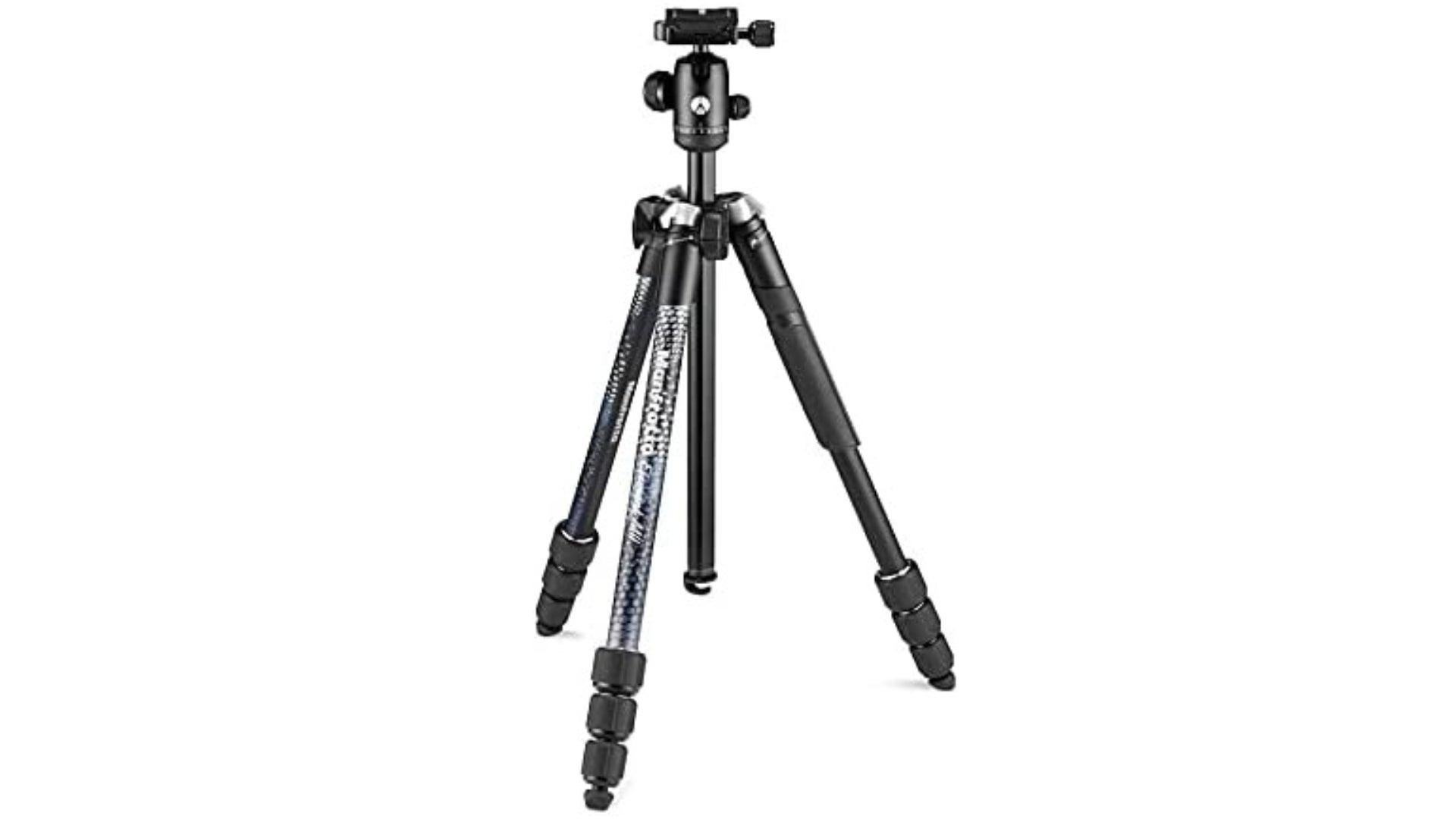 Mafrotto Element MII tripod.
This is the type of tripod that would serve you well if you are looking to use it in more harsh conditions. The Manfrotto Element MII can also be used with dedicated DSLR and mirrorless cameras, which makes it future proof if you decide to upgrade in the future.
Thanks to its aluminum body, it stays lightweight while also being sturdy and rugged. It can be extended up to 62 inches and can be folded down to 16 inches. Extending and retracting the legs is quick and easy thanks to the twist-lock system, although, it is wise to be more careful around sand and dirt as both can affect that functionality.
The Manfrotto Element MII does not come with a clamp for your phone, but that can be easily purchased separately and added on.
GVM Tabletop Mini Tripod JJ-G310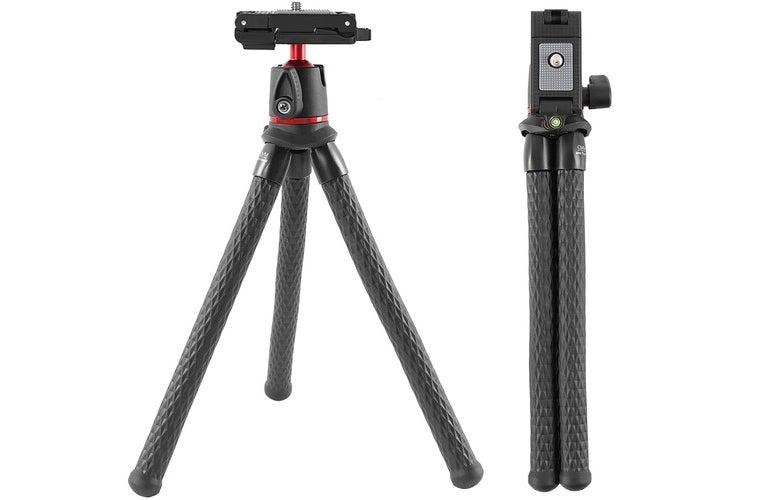 The GVM Mini Tripod is a portable and flexible photo accessory with height of up to 12.2 inches, making it one of the best compact tripods. This tripod can easily be mounted on any surface or wrapped around poles or branches, with its grippy, flexible legs and rubberized feet. Its camera mount has an easily adjustable head for tilting and moving the mounted device, which makes it one of the best tripods to buy.
The GVM JJ-G310 tripod is perfect for nature shooting, timelapse and on-the-move videos. It's lightweight and compact design makes it easy to carry. GVM's tripod offering can be mounted by phones or cameras. The tripod's phone mount also has an external microphone mounting point.
JOBY - GorillaPod 3K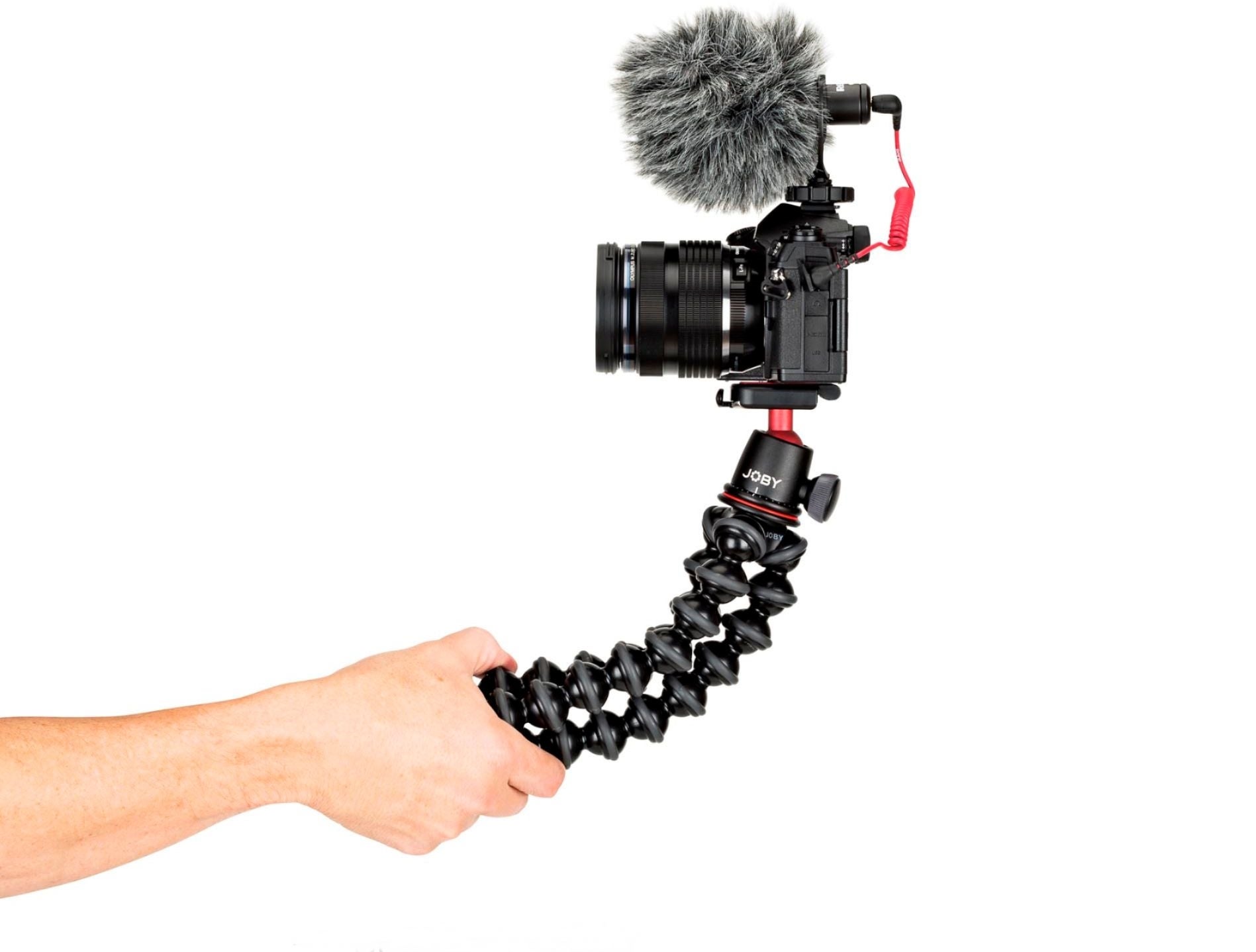 The JOBY GorillaPod 3K is a higher-quality tripod with flexible legs design which allows it to be attached to things like poles and railings. The GorillaPod can also be used as an improvised selfie stick by shaping its legs in the desired form. Its versatility makes it one of the
best phone
tripods there is.
Although it's relatively small, it can carry heavy cameras with ease thanks to its aluminum-made body. A smaller, lighter version of the tripod is also available -- the GorillaPod 1K.
The Joby GorillaPod 3K is offered in three colors: black, black and red, and black and grey.
There are plenty of good phone tripods out there
As you can see, you have plenty of choices of phone tripods in 2023. Some are perfect for vlogging on the go, while some are best for home video tutorials. There are also those, like the DJI Osmo stabilizer that is best in action filming. The variety of choices is great and there is something for everybody. Moment's MagSafe supporting tripod accessories are nice, but not cheap, but if you love magnets you should go for it. But as far as
best phone
tripods go, these are all great choices.
Recommended Stories