The best Android launchers and interface tools of 2015
13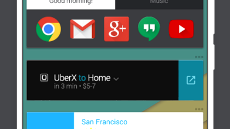 We've been running a fortnight roundup of the best new launchers and interface tools you can find in and out of the Play Store for more than a year now, and it is time to recap the top of the tops that 2015 brought to dress our homescreens in.
If you put enough time and effort, they say, you can tailor every Android phone to serve your unique interests and interface layout wishes, and third-party launchers like Nova, Apex and the like, have proved it time and again. Every once in a while, a new launcher appears that promises a paradigm shift in interacting with our mobile devices, utilizing innovative gesture-based or side-sliding launch tech, and some of them are even donning amazing graphics and extra functionality.
There were plenty of interesting takes on the arrangement and functions of our homescreens, widget placements and app drawer management this year, and not only because Microsoft decided to enter the fray with a few Android apps of its own, including a launcher and a lock screen app. Check out some of the best launchers and interface tools that were outed in 2015 below.
Oh, Arrow, you finally jumped out of beta, and hopped into the Play Store! A creation of Microsoft's prolific Garage incubator is one clean, small in size, and well thought-out launcher that features soothing graphics a far cry from the me-too flat trend that got introduced with Google's Material Design shenanigans. Moreover, it is not brimming with unneeded functionality, yet automatically puts your most used apps and contacts front and center for easier access.
The launcher gives you a home page with one row on top for your recently used apps, and three rows for apps that you use the most frequently. The apps displayed on the dock are determined by the user, and normally might include those used very often. A swipe to the right takes you to the Notes & Reminders page where you can type in a list of things to do and check a box once the task is completed.
A swipe in the other direction brings you to a list of people from your contacts list that you recently got in touch with via phone, email or text. It also provides you with a list of frequently used contacts, as well. You can also swipe up to see more options including additional dock shortcuts. The app drawer is posted alphabetically, and you can use your finger to slide down a list of letters to reach an app faster.

Designed around a scrolling list of cards, the SF Launcher 2 is one of the few that does the Material Design and Android 5.0 Lollipop theming right, unlike many other launcher efforts. You've got a dozen cityscape headers that change based on the time of day, hence the SF moniker, and all the basic app and widget launcher functionality is here in a card format.
Still, the new SF Launcher kid doesn't bog itself down with meaningless extra functionality or fancy, but excruciatingly slow to render graphics. Besides the cityscape headers, there are light and dark themes, and the way to manage the homescreen cards is super easy, too.
Dubbed a wallpaper "boredom beater," TapDeck's premise holds a mighty promise. Chose from a rich collection of high-res wallpapers with this self-proclaimed "gateway of content discovery", double-tap to change your wallpaper, or simply swipe up to discover additional info about the image and content relevant to it, like on various landmarks or animals, derived from TapDeck's intimate connections with the wise services of the folks from Reddit and Wikipedia, among others.


Requiring a minimal amount of memory to run, the KISS (for "keep it simple, stupid") launcher has nothing to do with the excesses of the ancient rock band. It takes less than 100kb, is optimized for minimal toll on the battery, and bets simply on search to find anything you need, without resorting to elaborate functions and widgets.
One Launcher is less than 2MB in size, yet features real-time lockscreen notifications, its own tailored weather, clock and calendar widgets, as well as a bunch of curated high-res wallpapers. It bets on simplicity and speed, with numerous transition effects that promise not to lag, even on older Android gear.
Snowball aims to put an end to the flood of notifications you are bombarded with every day, letting through only the ones you would really want to check up on, and allowing you to reply to your Facebook, Twitter, texts and other messages inline, routing your answer automatically through the respective app afterwards.
It takes some tutoring to catch up, as you have to either swipe away or authorize the notifications from each app for Snowball, but after the learning period it's smooth sailing, and a much needed break from the notifications spam.
Yandex Launcher has all the basics like app and folder categorization, widget and homescreen grid layout management, and security functions, but it also throws in some extras, like letting you use color schemes to search for your apps. Check out how it works in the promo video below - we don't know about you, but we seem to remember what color is the app icon easier than its placement in the app drawer or the folder on the homescreen.

Launchify places your favorite app shortcuts right in your notification bar and lock screen for quick access without obstructing the view, as simple as that. The tool can even recommend the right app for the time of day and the place you are at (home, work, or in the car).
The Scout launcher goes deeper into the timely snippets of information available to you at any given moment. The gist of it is in the short video below - Scout will have suggestions to you from the moment you wake up (weather, breakfast places), and throughout the day, digging up relevant apps you might have even forgotten you've installed on your phone, based on the occasion and location, too.
Thankfully, it doesn't try to guess everything seamlessly like Google Now, but actually asks about your work and home locations, for instance, upon initial setup. Then it proceeds organizing your apps in groups (called "spaces") on separate screens automatically, though you can revamp those at will, too.
The "cards" it will use for popular tasks are actually standalone entities - you don't need to have YouTube installed to enjoy the YouTube card, for instance, but can have the full functionality and interaction within Scout itself. Some of the services offered include Weather, Calendar, Reddit, Uber, Yelp, SoundCloud, YouTube, Notifications, Lyrics, Events by Seatgeek, ESPN CricInfo, and contextual app recommendations - with many more to be added when Scout on with its development.