Ten clear, blurry-free minutes with the Nexus One
This article contains unofficial information.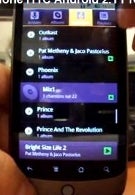 We've seen blurry videos of the up-coming Nexus One, but here is a clear video that gives you ten solid, quality minutes with the Android flavored device. The phone handles the Android
2.1
OS with no lagging, thanks to the Snapdragon chip under the hood. The screen looks bright and sharp (as best we can tell, looking through our PC monitor) and the device overall seems very responsive with the term "zippy" coming to mind. Quick, fleeting shots of some French speaking web sites and the Android Market are shown along with Google and some video of the Nexus One from YouTube. After it's over, the video leaves you hungry for some more 2.1 action and the good news is, it might not be too long before that hunger is satisfied.
HTC Nexus One Preliminary Specifications
source:
Gizmodo