Samsung smartphone sales push profit to record levels
1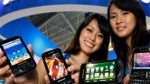 Samsung, the world's second largestphone manufacturer, reported strong last quarter cell phone sales of80.7 million sold units, a 17% year-on-year increase. Thisbrought yearly phone sales to its target of 280 million. Themobile arms of the company registered record operating profit ofaround $1.29 billion (1.44 trillion won) for the fourth quarter.
The company's high-end Galaxy Sseries sold more than 10 million units worldwide handsets, while theSamsung Galaxy Tab went over the 2.0 million sold units markjust recently. While the first quarter of 2011 is expected to be abit slower, at such a rate, the manufacturer is right on its way toachieve its goal to overtake Nokia as the world's biggest phonemanufacturer in three years.
Sammy's target for 2011 smartphonesales stands at 60 million units, twice as much as the smartphonessold in 2010. Check out the press release below for all the sweetnumbers.
source: Samsung