Samsung SM-T805 (possibly a new Galaxy Tab Pro) receives its Bluetooth certification
12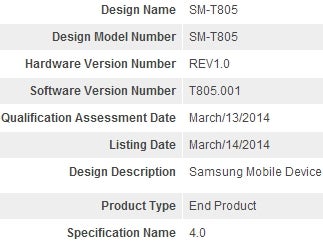 Samsung SM-T805
is an unannounced tablet that was first mentioned last week. This model number is already confirmed by Samsung, and its UA profile seems to further confirm that the device runs Android 4.4 KitKat and sports a display with 1600 x 2560 pixels.
We discovered that the Bluetooth SIG approved the SM-T805 earlier today, which means that Samsung may be getting ready to officially announce it in the near future.
Unfortunately, that's about all we know regarding the SM-T805. However, its model number and the fact that it has a high-res display suggest that it may be a new Galaxy Tab Pro model. We could also assume that the SM-T805 might be a new tablet with an AMOLED screen, since Samsung is seemingly prepared to
mass-produce AMOLED panels for tablets
. Whatever this turns out to be, we'll let you know.