Samsung Galaxy S4 (Google Edition) goes through the rings of hell
22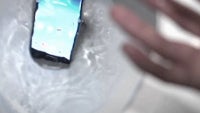 It is a known fact that every smartphone maker tests its smartphones extensively before releasing them to market and stress tests are part of that whole pre-launch torture. When it comes to flagship phones, though, it is not just torture - it is pure hell.
In this latest video Samsung shows what the
Galaxy S4
went through before arriving to market. It's a lot. Most of the tests are automated of course but nonetheless it's very impressive seeing the S4 survive drops, temperature changes and the elements.
We get to see the phone being smashed on, stepped on and even submerged in water for a few seconds (do not try this at home) and it survives. Interestingly, you could see that Samsung is using a
Google Edition Galaxy S4
in these tests as well. Take a look below.
source:
SammyHub