Nokia brings Microsoft Exchange ActiveSync to all S60 3rd Edition phones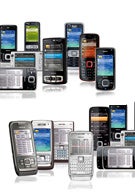 While Symbian has had an ActiveSync licence
since 2005
, Nokia's proprietary Mail for Exchange applicationwas previously reserved for select N and E series devices and Nokiaalso offered
BlackBerry Connect
for E series and other previous business-oriented devices.
Nokia's refusal to support BlackBerry Connect with its lovely
E71
was a clear hint that Nokia had decided to change directions in relation to mobile email.
More of this strategy is now being revealed and every single NokiaS60 3rd Edition device can now run Mail for Exchange - including budgetmodels like the
Nokia 3250
and the
Nokia5320
. This is unlikely to be enough to slay the BlackBerryjuggernaut, but it's a small step.
At least Nokia's aretypically pretty reliable (which was probably the whole reasonBlackBerry emerged victorious over Windows Mobile for mobile email inthe "first" round).
via:
All About Symbian