Mysterious Mini-DROID pictured
This article contains unofficial information.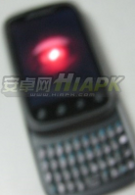 A blurry set of photographs look like it could mean another Motorola manufactured Android device heading to Verizon. While the picture looks like it was taken by Mr. Magoo, one thing stands out-the red DROID eye. With a portrait sliding QWERTY keyboard, the device looks like the Palm Pre or the unreleased BlackBerry 9800. The device in the picture is a smaller size than other Motorola Android phones and we're thinking 2.8 inch display or something in that ballpark. A bit ironic, isn't it. After launching the giant DROID X with a 4.3 inch screen, the Schaumburg based company appears to be turning its attention to a Mini-DROID device. What do you think? Would you pass up the DROID X or DROID 2 for a byte-sized (pun intended) version of a DROID styled phone?
source:
Hiapk
via
AndroidandMe