Motorola's Zepplin is led to photographer
8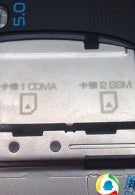 Ok, ok, enough Led Zepplin jokes. Motorola has become synonymous with hot Android phones in just the last 3-4 weeks or so and here comes another unit. The Chinese web site Digi.QQ.com obtained a picture of this handset, which is expected to get a worldwide launch in the first quarter of 2010 after it first debuts in China. This is the
same route
being taken by the Dell Mini with a launch in China followed by a worldwide release.
The Zepplin offers a
3.1
inch touchscreen with resolution of 320 X 480 pixels. Wi-Fi is on board as is GPS and a FM radio (natch, so you can listen to all of those Led Zepplin songs on the oldie station...oops! Another LZ joke, sorry!) No word on cost yet.
source:
Digi.qq.com
(Translated) via
AndroidOS.in