Logitech K810 Bluetooth keyboard comes with automatic lighting and costs $100
6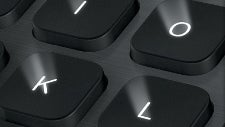 Logitech Bluetooth Illuminated Keyboard K810
is a device we can imagine using more and more as smartphones become more and more powerful, and we even now have monitors created specifically to connect to handsets via MHL. And the Logitech K810 is a very decent option - it's a chiclet keyboard that connects with smart devices via Bluetooth. Its keyboard light up at night so you can hit the right buttons quick enough. One of its cool features is that it automatically adjust its lighting.
The keyboard is compatible with Android 3.0, iPhone and iPads running on iOS 4.0 and Windows 7, Windows 8, and Windows RT. Basically, you need to have your device supporting the keyboard profile HID.
The keyboard supports up to 3 devices and you can switch between them via a dedicated button in a second. The Logitech K810 keyboard price is set at $99.99.
source:
Logitech