LG Optimus G Pro shows up in black
4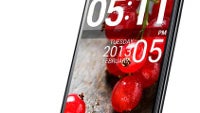 The LG Optimus G Pro is one of LG's finest efforts to make a tablet. A 5.5-inch 1080p monster phone the Optimus G Pro will come in black and it looks plain gorgeous on the images LG teased on Facebook.
The black G Pro will launch "very soon" in black. So far, the device has only been offered in white. Interestingly, the handset has the same glittery back texture as the Nexus 4 but and this becomes way more apparent in the black version.
The LG Optimus G Pro runs on Android 4.1.2 Jelly Bean and features a Snapdragon 600 quad-core chip with 2GB of RAM and 32 gigs of internal storage. The camera on it is a 13-megapixel one.
Most recently, LG released a value pack update that adds features like Smart Video where the video pauses whenever you look away from the screen.
source:
LG
Recommended Stories